In June 2003, HCE guided eight people around East Africa on
"The Expedition of a Lifetime"
We met in Nairobi, Kenya, then traveled to Tanzania where we spent four days on Mt Meru (4538m). With this excellent peak and some good initial acclimatization behind us we moved onto Mount Kilimanjaro (5896m). A slow, steady six day climb climaxing in the Breach Wall and a crater camp ensured everyone was in top form for our visit to "The Top of Africa."

Serengeti and Ngorongoro's animals and birds provided a stunning contrast to the stark uplands. En-route we visited Olduvai Gorge where the Leakeys discovered some of Man's earliest ancestors. Next Mount Kenya provided fine weather for a six day circuit including an ascent of Point Lenana (4895m).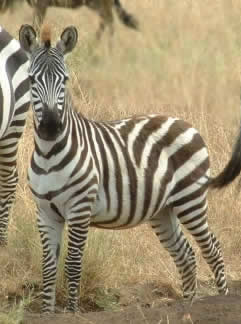 Some of the party then traversed both Kenya and Uganda to the Rwenzoris for another eight day circuit walk. From knee-deep boggy valleys to glacial tops! We climbed both Mount Speke (4587m) and Mount Stanley (5109m) – high point of the Zaire (Congo) – Uganda border.
Judy and I rounded off this odyssey with a few days in the remarkable African-Arabian culture of Zanzibar.
All in all, it was such a great trip.
In 2008 we plan to go back to Africa, but this time trying a different route. We are currently still planning, but intend to go up the west side of Kilimanjaro, approaching the crater from the North.